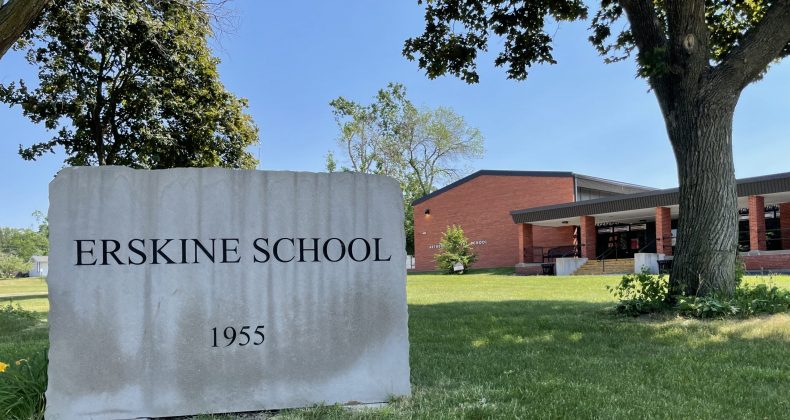 Erskine Elementary School develops world class learners and responsible citizens. Staff is committed to using research-based best practices to provide instruction that is engaging and meaningful to students. We believe that every student will feel part of a safe, respectful community with the tools to do their personal best and achieve their full potential, becoming the best learners they can be.
The Erskine parent teacher association (PTA) supports our school community by providing students with many unique opportunities. They provide many extra activities for our students such as winter party, monthly family fun nights, spring field day, and our after-school enrichments. These enrichments have included French, sign language, cooking, writing, drums, gardening, and dance. Our PTA also supports our holiday food baskets and Christmas giving tree, making sure that our Erskine families have food and gifts for the holiday season.
Erskine activities have included Lego league, art club, athletic intramurals, running club, and science nights.
Erskine partnerships benefit students tremendously. Erskine has an active partnership with Mount Mercy University. This partnership provides our students with some on-campus experiences and college students as tutors. Our fourth grade students travel to Mount Mercy University annually to participate in college classes designed for them. Third grade students travel to MMU to learn about sportsmanship and healthy eating. Boys and Girls Club and Jane Boyd Community Center provide transportation for our students after school to their centers. Erskine also has before and after school programming provided by Waypoint Services.
Erskine volunteers are important. We have many opportunities for families to volunteer at school. These opportunities can include time in the classroom, serving at donuts for dads or muffins for mom, doing craft projects at the winter party, or baking cakes for our field day cake walk.
Erskine's campus sits on a very large property with plenty of green space for children to play. Many of our community members use our paved walking track, baseball diamond, and playing fields for league sports.
School history
Erskine Elementary School has the honor of being the namesake of Dr. Arthur Wright Erskine, who lived from 1885 to 1952. He was an internationally-known x-ray specialist, considered a leader in cancer research, and wrote many scientific papers and books.
Erskine Elementary School opened its doors to students on November 14, 1955, and is one of the few CRCSD schools not named after a president. Built at 600 36th Street SE, Erskine originally hosted 435 young learners. The Gazette held a contest to name the school and Dr. Arthur W. Erskine was chosen in recognition of his contributions to cancer research and x-ray technology.
Dr. Erskine's experiments led to the international adoption of the r unit, which is used to measure x-rays. His early experimental work on ionization measurements of x-ray and the long anode-skin-distance in x-ray therapy were carried out at the sacrifice of his health. He lost all of the fingers on his right hand except for his thumb and little finger. He had more than 30 operations and skin grafts to repair the trophic injuries that resulted from undue x-ray exposure.
Dr. Erskine wrote many scientific papers and books, including "Practical X-Ray Treatment "and "The Cancer Manual." He worked without the benefit of the facilities and equipment of a large institution and without any financial backing. He had a little shop in his office where there were tools and a soldering iron.
Dr. Erskine was remembered for his sense of humor and encouraging personality. He loved children. Every year he bought circus tickets for children at the children's home. He had a doorway in his home where he carved the height of the children who came to visit him. Those doorway notches ranged from three feet to over six feet. His contributions to cancer research and x-ray technology and his love for children makes it fitting that our school is named after him.

For the 50th anniversary, Erskine Elementary School held a celebration on November 14, 2005. Students participated in an all-school assembly and an afternoon reception featured special presentations by former staff, alumni, parents, and CRCSD personnel. A time capsule was opened, revealing artifacts from the 25th anniversary of the school.
Over the years, many updates have been made to the school grounds. A ⅓ mile track was installed on the campus, playground equipment has been updated, and benches have been added to the front porch. The school also features a large library collection and computer lab in the Erskine resource center.
---
Key contact